Maximize Your Rewards by Using Your Foothill Credit or Debit Reward Cards This Summer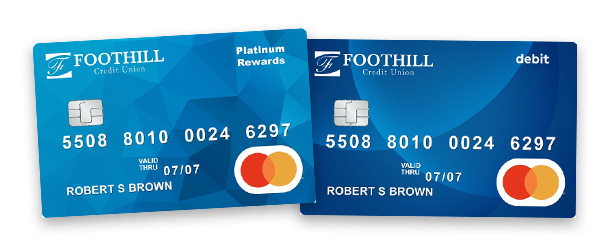 Summer is just around the corner, so as you begin to plan your vacation, staycation, or summer home improvements, be sure to use your Foothill Rewards Credit Card or your debit card linked to your Foothill Rewards or Protection Plus Checking account.
When you use your Foothill rewards credit or debit cards you'll earn double points on your summer fun purchases, including airfare, hotels/lodging, Air B&B, amusement parks, home improvement and more!*
Earn Double Points til' June 30, 2022
Earn double points on all qualified purchases from April 1 - June 30, 2022.*
The best part––your points earned from your credit card and debit card purchases are combined to maximize your rewards! So go ahead and swipe, sign or tap to get more out of your summer plans.

Just Use Your Cards and We'll Tally it Up for You
There's no extra work on your part to earn the double points. Just use your cards as you normally would and we'll take care of the rest!

Don't Have a Platinum Rewards Mastercard Yet?
If you don't have our Platinum Rewards Mastercard yet, now is the perfect time to take advantage of all the rewards you can earn. You can also upgrade your existing Platinum Card to a Platinum Rewards Mastercard by calling (626) 445-0950, option 1.
Learn more about our Platinum Rewards Mastercard
* Promo from April 1, 2022 through June 30, 2022. Double points awarded on select Mastercard merchant codes related to travel, hotel/lodging, airfare, entertainment, and home improvements. Foothill does not designate merchant codes. Double points awarded on signature-based transactions only. Transactions must post to the account within the promotion period to qualify. Reward points will reflect on the corresponding account 30 days after the promotion concludes. Refunds/returns posted to the account will result in forfeiture of initial points earned for that purchase.